Women in Crime Ink
is celebrating its first anni-versary today, and we want to mark this special occasion by thanking all of our contributors—and especially our readers!
It's been quite a year since we launched on March 10, 2008. Most of the crime news took a backseat to a fiery election campaign, but there was no shortage of crime stories. The Caylee Anthony saga took us by storm and may prove to be one of the most followed crimes of the decade. And the most-p
ublicized crime of the '90s was given a final chapter with last year's conviction of O. J. Simpson. The newly discovered DNA evidence in the JonBenét Ramsey case kept us chirping through several posts, while Women in Crime Ink gave cases like those involving Becca McEvoy, Davina Buff Jones, and Belinda Temple the attention they deserve.

Of course, we haven't forgotten the disappearances of student Natalee Holloway or toddler Madeleine McCann. By offering new theories, we have attempted to keep these and other missing persons cases alive in the public consciousness.

Our regular contributors have also brought you some of our personal stories that led to our respective "lives of crime."

As serious and thought-provoking as we try to keep our posts, occasionally, we like to have fun with our readers. Were you one of those who fell for the April Fool's blog that Jimmy Hoffa's bones had been found in New York? You weren't alone—that prank post spread like wildfire in cyberspace, burning nearly all who read it. (Don't be caught off guard this coming April Fool's Day. . . .)

Also last spring, Women in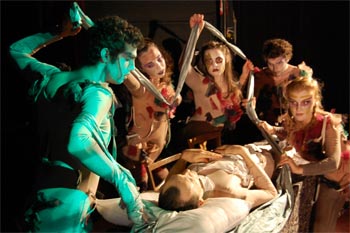 Crime Ink had the honor of a brief "appearance" on Broadway, at least within the pages of the Playbill for the production of "The Judas Tree," the visually stunning true-crime musical based on the crimes of serial killer Dorothea Puente. (photo credit: Alex Moore)

Early this year, we stepped onto another stage,

joining the Facebook frenzy. If you haven't already, stop on over at our Facebook page and become one of our fans! There you will also find a bookstore where you can browse titles by our contributors.

Our fans and readers have also been contributors to Women in Crime Ink. WCI guest contributors have ranged from homicide detectives to a polygamy survivor.
Who can forget our "Independence Day Series," which featured the harrowing first-person account of a man who was nearly executed for a crime he did not commit? And then there have been those special occasions when people we've written about—or their friends and family members—have surprised us with a response. Indeed, sometimes reader comments have taken over our posts. For example, the brief (130 word) announcement that Manson member Susan Atkins is dying of brain cancer has generated 25,000 words. Keep 'em coming. We love hearing from our readers.
So let us know your thoughts about our first year! Use the comments section to tell us what you like about the site . . . what you haven't cared for . . . stories you'd like to see more of . . . and any ideas you have as to how we can improve.
Thanks, everyone, for reading and for contributing to Women in Crime Ink. And a special thank you to Cole Stevenson for designing the site and to Rex White for creating our Justitia logo and original art. These talented men helped the women of WCI get up and running . . . and our contributors and readers have kept us going strong. Thanks!

Tweet