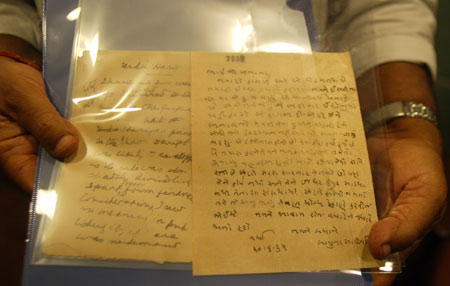 by Narelle Bitunjac


When I open the mailbox and see another letter from John, I always feel lucky. Aside from the fact that his letters are intriguing, there's something special about someone taking the time to hand write a message and send it by post. Of course, e-mail isn't an option for John—he's housed in a prison.

I'm usually terrible at correspondence and rarely remember to send birthday cards. So it was out of character for me, an Australian school teacher, to initiate a "pen pal" relationship with anyone, never mind a complete stranger who resides in an American prison, convicted of murdering his wife.

My interest in John began after I watched a documentary about his trial. His case seemed extraordinary and I couldn't get him or his situation out of my mind.

I had conversations with friends about John and the fact that he was an intelligent, articulate man who had no history of violence. We analyzed testimony that supported John's assertion that he loved his wife. We tried to figure out why he'd been convicted given that the physical evidence was inconclusive and the prosecution's case seemed patchy.

It wasn't long before I began to feel uncomfortable that I'd become emotionally invested in John's life and he didn't know anything about mine. I'd hoped that writing a letter of introduction would balance the scales. It did.

Over the last two and a half years, our correspondence has grown into a friendship. We discovered early on that we were both working in a teaching capacity. He was teaching basic literacy and numeracy skills to inmates and I was teaching much the same thing to my second-graders.
Our early conversations about teaching slowly moved onto more personal subjects. I wrote to him about life as a newlywed and he wrote back about his adult children and the realities of prison life. The prison stories were usually shocking, sometimes frightening but occasionally funny. I remember that I burst out laughing when he revealed that "chick lit" and romance novels were the most popular books in the prison library. "Closest thing the inmates can get to porn," he explained.

As interesting as writing to John was, it wasn't bringing me any closer to understanding how he ended up convicted of domestic homicide. If anything, our friendship made his conviction more difficult to comprehend.

To learn more about domestic homicide and the men who commit it, I began reading court transcripts, academic papers and media reports. In observance of

Domestic Violence month, I will share some tips on how women in abusive relationships can lower the risk of homicide:

· Don't live with an abuse partner. Refusing to live with an abuser significantly lowers the risk of abuse becoming fatal;
· Treat any abuse during pregnancy as an absolute deal breaker; · Report domestic violence. The incidence of domestic homicide is lower in men who have been charged with abuse; · Take death threats seriously; · Hide or remove all guns and ammunition from the home; · Keep your plan to leave a secret and leave when your partner is not home; · Take extra care for the first 12 months after separation, especially if the abuser is controlling; · Take action: speak out and seek help from friends, family, police, and local domestic violence agencies. I soon discovered that the crime John was convicted of was intimate partner homicide, not domestic homicide. Intimate partner homicide and domestic homicide are erroneously thought to be the same. Intimate partner homicide involves killing a spouse, ex-spouse, boyfriend or girlfriend and happens at a rate of more than three per day in the United States. Domestic homicide is a broader term and refers to the killing of children, extended family, current partners, and suicide.

I expected to see a history of controlling and violent behavior in relationships ending in homicides. However, I was surprised to learn how often abuse during pregnancy preceded homicide. In fact,

recent studies have revealed that homicide is the number one cause of death for pregnant women.
Having never been a victim of abuse, I've found it difficult to understand why women in abusive relationships don't just leave. Yet statistics confirm what victims know instinctively–the risk of homicide spikes significantly when a woman leaves an abuser. Violent men don't step aside and let their partners walk out. Although this information provided me with some insight into intimate partner homicide, I didn't feel any closer to understanding why John had been convicted as none of the predictors of homicide applied to his relationship.

I kept reading and eventually found a flip side to the crime lurking in the details of the high-profile cases, those cases which attracted major media attention because the accused wasn't a serial abuser who'd gone too far. Without a history of violence, the flip-side murders initially seemed random and unbelievable. But there was a common thread, and while it wasn't as blatant as bruises and broken bones, it was there.

In every case, the accused could be described as: a habitual liar,

narcissistic, unfaithful, materialistic, egocentric, charming and manipulative with absolutely no regard for anyone else.

Who doesn't tell the occasional white lie, flirt every once in a while and think of themselves first? That's not the same as being a pathological liar, an unrelenting cheat and narcissistic beyond what could be considered a normal level of self interest.

In contrast to the

serial abuser, who seeks complete control over his wife, it seems these men wanted to be rid of their wives. They used murder as a cheaper and more permanent alternative to divorce. Most stood to gain financially via life insurance, avoiding costly property settlements, or sidestepping alimony and child support. The "cheaper than divorce" theory is strengthened when you consider that the victims either had children or were pregnant at the time they were of murdered.

I'm still writing to John and given our friendship, I have lost my perspective in terms of his guilt or innocence. A friend asked me recently what I'd do if John told me he was guilty.

I said that John and I rarely discuss his case but if he did confide in me, I would continue writing.

Apart from my friendship with John, which I consider genuine, any details he shared would help me realize my goal of fully understanding this complex crime and sharing that understanding with other women.
Narelle Bitunjac is a 41-year-old elementary school teacher from Sydney, Australia. She is a member of the Domestic Violence Coalition Committee and actively supports its campaign for the introduction of Domestic Violence Fatality Review teams in Australia. This is Narelle's first published piece, written for Women in Crime Ink and subsequently accepted for publication with a quarterly women's journal, Honestly Woman, "an Australian magazine for enterprising women."
Tweet