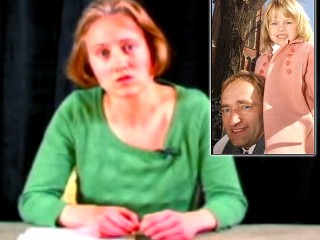 by Pat Brown

Super-con man Clark Rockefeller was a good father and would never hurt his daughter, so his ex-wife
Sandra Boss
claimed as she tearfully begged for her child's kidnapper to bring the little girl home.
"We both love her dearly and have only her best interests and well-being in our hearts. I ask you now, please, please bring Snooks back," said the child's mother (pictured above), using the child's nickname. "There has to be a better way for us to solve our differences than this way."

I received a number of terse e-mails after I did a few news commentaries making the point that since Rockefeller was clearly a psychopath (as he surely displayed all the traits of one), it should not be assumed that his daughter was safe with him just because he claimed to love her and had not been violent with her in the past.
Was it it unfair of me to conclude that because the man was a psychopath, a pathological liar, a con artist, and a kidnapper, he might also employ violence against his own child should she begin to annoy him or get in his way? Is the kind of psychopath who uses fast talk to charm people into giving him what he wants, the type who would commit violent acts as well?

"He's not a violent person," his lawyer said, standing outside of a Boston jail after conferring with Rockefeller. "There's no evidence of violence in his life, absolutely no record."


Clark Rockefeller AKA Christopher Chitchester AKA Christian Karl Gerhartsreiter (his real name) is now being investigated for the 1985 double murder of the landlords of the guesthouse he rented behind their San Marino home in Southern California.
It seems the newlywed landlords, Johnathan and Linda Sohus, went off on a honeymoon to Europe and were never seen again. Their bones, however, were discovered buried on their property nine years later by a company digging a swimming pool for the new owners. A postcard, supposedly penned by the honeymooners, was sent from France at coincidentally the same time Rockefeller was visiting the country.

In 1985, there is no question that folks thought Rockefeller was quirky, maybe even crooked, but it is likely they never considered him dangerous or violent. Because he was gregarious and charming, those who met him probably thought he would use his wits, not weapons, to achieve his lofty goals.

Sandra Boss probably now realizes how lucky she was to get Snooks home in one piece. A psychopath is not always serial killer and is not always a violent criminal, but by the time you figure out what kind of creep he is, it may be way too late.
Tweet