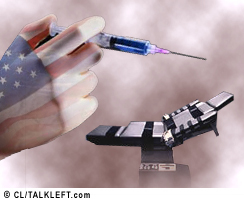 by Katherine Scardino
Yesterday, the highest court in our land issued a landmark decision about the death penalty in the United States. The United States Supreme Court upheld Kentucky's method of execution, refusing to rule for condemned petitioner Ralph Baze (pictured below) who claimed that death by lethal injection constitutes cruel and unusual punishment, in violation of the 8th Amendment to the U. S. Constitution.

The issue in this case was based on the lethal "cocktail" that is used to execute people convicted of capital murder and sentenced to die. One drug in this three-drug combination, pancuron
ium bromide, works its way through the body and basically numbs the nervous system in such a way that the person being executed may feel the excruciating
pain caused by this lethal combination of chemicals but is unable to express his pain and torture. There have been documented cases of patient awareness or "anesthesia awareness" (click here for video explaining phenomenon). During anesthesia awareness, patients undergoing surgery are awake during the procedure - able to feel the pain - but powerless to tell
the surgical team that they are aware of the knife cutting through the body. People who have undergone this horrifying experience have been traumatized by the event and have come forward to let the world know about this terrible drug. One patient's post-traumatic stress led him to commit suicide. The phenomenon of patient awareness is horrific enough to have inspired the film Awake.
Veterinarians banned the use of pancuronium bromide to euthanize animals. Even this profession no longer uses this drug in their field because they realized that it was painful and cruel. So why does our Supreme Court believe that it is appropriate for human beings?


Perhaps this subject opens up dialogue about whether capital punishment is "cruel and unusual" - whether we, as a nation of civilized people, believe that killing is a morally justified response to killing. Our courts have stated that we must evolve in our laws based on our evolving standards of decency. We have gone through several different methods of capital punishment in our history - beheading, the body being drawn and quartered, shot, electrocuted - but over time, we have decided that these methods are cruel and inappropriate for our evolving society.
Tweet