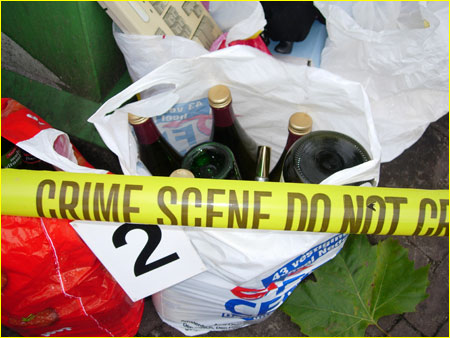 by Connie Park


On February 21, 2001, I was at the Homicide desk, working evening shift for the
Houston Police Department
. That night, I was taking calls from patrol officers reporting any murder scenes. I was a rookie officer back then, plus I was new to homicide. I was learning from investigators who had been investigating murders for over a quarter century. Needless to say, I was star-struck and eager to learn. On that Thursday night, we received a call regarding a body found in an apartment. A woman had been tied to a refrigerator.
Sgt. John Burmester, Officer Brian Harris, and I were assigned to make the scene and conduct the investigation. We arrived at the town home complex and found the patrol officers securing the crime scene. You can imagine all the images that were going through our minds when we first received the call. Sure enough when we arrived at the crime scene, there was a heavily decomposed female body lying on the floor.
The victim had been strangled and tied to the refrigerator handle like a dog. The victim's name
was
Carmen Tupas, a 76-year-old retired teacher
, who had lived alone in the complex for years. Neighbors told investigators that Ms. Tupas (
pictured right
) kept to herself and would not open her door to anyone except the few people she knew in the complex. There were burglar bars and an alarm system in her town home. Ms. Tupas had been robbed and beaten a few years before and was very safety conscious.
According to witnesses, they noticed Ms. Tupas's car was missing but they had seen the vehicle during the week parked in different parking spaces. The night Ms. Tupas was discovered, one of the neighbors stated that he noticed the burglar bar and front door were ajar and the lights were on inside the town home. The neighbor thought that was strange. Everyone knew Ms. Tupas always had the burglar bars locked. He went inside and that's when he discovered Ms. Tupas lying on the floor, obviously dead.
This was one of my first crime scenes I made as an investigator and one that I will not forget. I saw a helpless elderly woman tied to a refrigerator door handle like some kind of animal. I was thinking who--or better yet, what--would do this to any person. Ms. Tupas had been dead for approximately two weeks. She was so heavily decomposed that her face was unrecognizable.
I had to conduct the crime-scene investigation and collect and document any potential evidence that might help with the investigation. I made an effort to be strong and objective and not to personalize anything. The very first opportunity I could take a break, I walked to my car and I began crying, trying to comprehend how anyone could do this to a human being and the suffering Ms. Tupas went through before she died.
I know we tough police officers don't show our emotions and we have to be objective, but I don't know any officers who would not be affected by this murder. I remember asking
Sgt. Eric Mehl,
a seasoned veteran, how he handled everything. Sgt. Mehl told me that you can't personalize the victim. You must consider the body as evidence--the one piece of evidence you discover which will ultimately help you solve the murder investigation. That advice has stuck with me through my homicide investigations over the years.
We learned through our investigation that money and jewelry were taken from the town home and that her car was missing from the complex. The vehicle was recovered a few days later at the other end of the property. Even more disturbing was that whoever was responsible for her death had been staying in Ms. Tupas's town home for several days, eating and sleeping while she was lying dead on the floor decomposing. For several days they were in and out of her town home and using her car.


We received an anonymous tip from a woman who informed us that she had seen the stolen jewelry in the possession of two males who were visiting her the same day Ms. Tupas was found dead. It turned out one of the two suspects lived at the same complex and that Ms. Tupas knew him. Ironically enough, the suspect turned out to be her friend's son, the one and only friend she trusted. Charles White, a 34-yr-old male, and his 17-year-old friend Sam Zerai were eventually tracked down and charged with capital murder. Killing someone during the course of committing a felony such as robbery is a death-penalty eligible offense in Texas.
Both White and Zerai confessed to being in Ms. Tupas's home for a couple of days and admitted to driving her vehicle but, predictably, both blamed each other for the murder. Each stated Ms. Tupas was dead when they arrived at her town home. They said they had stolen her jewelry, pawned it, and used the cash to buy drugs. They acknowledged that they ate, slept, and used drugs while Ms. Tupas's body was decomposing.


That these two murderers were charged and arrested for capital murder was both exciting and a relief. The physical evidence, latent prints, and confessions placed them at the scene of the murder. Unfortunately, before a trial, the two suspects were able to plead to lesser charges--specifically, "burglary of a habitation with intent to commit robbery." Without the suspects admitting to killing Ms. Tupas, the evidence we obtained was not enough to prove beyond a reasonable doubt that they had killed her. All we had was enough to prove that they had broken into her town home and stolen from her.
Because White already had a criminal record, he received thirty-five years. Zerai was sentenced to less than five years. White is currently in the
Texas Department of Criminal Justice
prison unit and will be eligible for parole in 2036, and Zerai is out and living in Houston, Texas.
The case ended up with two arrests but only with burglary charges. The worst part is that the two cowardly suspects didn't have to stand trial for capital murder where they would have had to face Ms. Tupas's family. This was one case where justice wasn't served.
Tweet