b
y Michele McPhee
Martha's Vineyard
is gorgeous this time of year. In fact, despite the real estate slump, the average hotel room on the island can still fetch upwards of $600 to $700 a night
.

No wonder
Neil Entwistle
's attorneys want to move his trial to
Edgarto
wn Superior Court
, a cozy, picturesque courtroom that serves Cape Cod and the islands of Nantucket and Martha's Vineyard. Entwistle is the Englishman charged with pumping a bullet into his 9-month-old daughter's bel
ly, and his wife's head, on a cold winter's night in 2006.

A
fter the
killings, Entwistle (pictured below with wife and child) fled the country, according to prosecutors, who say he even left traces of gunshot residue on a kitchen knife, bolstering investigators' theory that the plan was murder-suicide. Only Entwistle didn't have the guts to commit suicide.

W
hy the change of venue? Well, Weinstein argued that my new book, Heartless, the True Story of Neil Entwistle and the Brutal Murder of His Wife and Child, released today, will make it impossible for him to defend his client from a prejudiced jury. And what better place to find a fair jury than a gorgeous seaside island at the height of the summer crush? After all, lodging for the accused British killer and his legal team would be picked up by the Massachusetts taxpayers – not by his attorneys,
Elliot Weinstein
and Stephanie Page.

T
he
selection of the jury who will decide Neil Entwistle's fate
began yesterday and will continue this week. On Friday, Weinstein asked the Honorable Diane Kottmyer to consi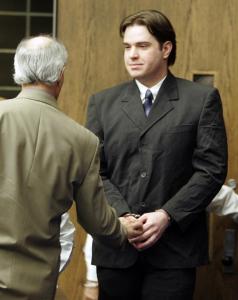 der a motion to change venue, to move the Woburn-based trial to the Cape, arguing that the book and the publicity surrounding the case will make it impossible for Entwistle (attorney and client pictured right) to get a fair trial. (With the British invasion of reporters from the United Kingdom flooding into Massachusetts right now, he hasn't seen publicity yet. I remember all too well the trial of the English au pair
Louise Woodward
who was convicted of shaking a baby to death that was in her care. The British press corps resemble European soccer fans, crushing and often over-zealous.)
After seeing the strip mall
that the Entwistle trial will unfold in, I can see why Weinstein would rather spend the summer on Cape Cod than in Woburn.

B
ut I believe that the judge recognizes the court would be hard pressed to find a reasonable alternate location where a jury has not heard at least some of the details of this gruesome murder. And I think she also realizes that Rachel Souza's devastated mother, her brother, and her step-father have every right to attend the trail – without having to endure the additional hardship of a ferry ride, expensive lodging, and a crowded courtroom. That's why Kottmyer denied Weinstein's request.

S
till, the lawyer is expected to ask again this week – armed with a copy of my book. Earlier this month, he
hit me with a subpoena
with a plan to compel me to reveal a confidential source regarding a suicide note his client had penned him from the slammer. That case was found to be moot after prosecutors said the suicide note would not be used in the Entwistle trial.

S
o the case that will unfold this week is not just a horrible allegation of domestic violence. It's a case for First Amendment lawyers to watch closely so we can finally bring a reporter's shield law to Massachusetts. Thirty-two other states have laws protecting reporters from being forced – under the threat of jail or financial penalties – from revealing their sources. It's a critical First Amendment issue and one that could continue to unfold as the Entwistle trial gets underway.

W
hy? Because Weinstein has told other reporters that he could hit me with another subpoena about the sourcing in the book. And, again, I will answer with the same refrain I have used as a crime reporter for two decades:

I have never revealed a source, and I never will.
Tweet